MEN'S AND BOYS' SHOES – FASHION FOR YOUR FEET!
You'll Find a Shoe Style
to Fit Any Outfit.
We here at Men In Style have a wide range of shoes for you to choose from. You've probably already seen them. They're being worn by the celebrities you love, featured in all the men's fashion magazines. We're sure we've got the perfect pair in your size.
From the most formal shoe style for that elegant event, to boots for that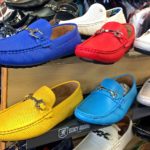 dress-casual activity. There's almost no limit to the colors and styles we have. We can complement any outfit you have, whether it calls for a smooth finish or an exotic type of leather.
All our shoes are of the top quality, from the designers you know, both for men and boys. We even have shoe sizes for the very smallest toddler, to complete that dressed-up look for the small man in your family. Stop by and let's try some on.
NEW 2018 ARRIVALS – DRESS, FORMAL
& CASUAL SHOES
NEW ARRIVALS — EXOTICS
For those who crave the look and feel of authentic exotic leathers, you're in luck.
Men In Style has just received our shipment directly from Mexico.
These are the highest quality, authentic skins, in the styles you love.
Are you looking for:
• Caiman Belly (crocodile)
• Sharkskin
• Teju (Lizard)
Take a look at some samples below.
And stop by today to try on a pair, before they're gone.
Click on the shoes to see them LARGER.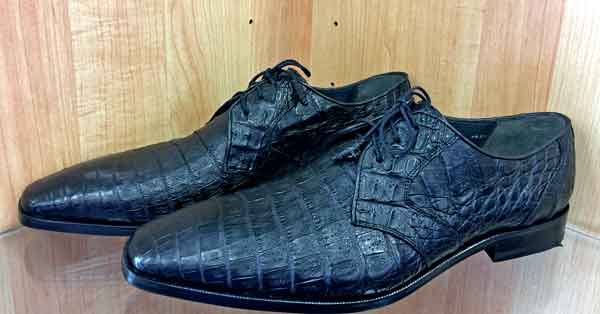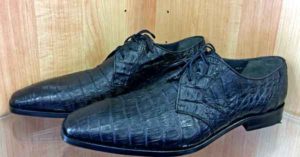 Los Altos Men's Handmade Genuine
Caiman Belly (crocodile) Leather,
Black Dress Oxfords
Our Mexican craftsmen have outdone themselves with these handmade oxfords,
made from genuine Caiman Belly (crocodile) Leather.
These black lace-up shoes feature a cushioned leather insole, full leather lining and full leather stacked heel.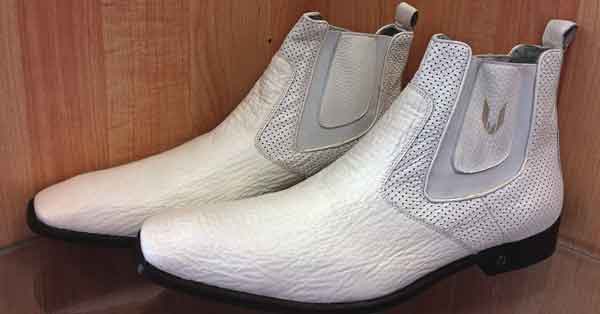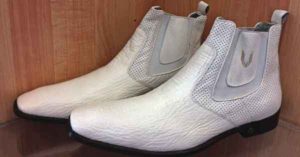 Men's Vestigium Handcrafted
White Genuine Sharkskin
Chelsea Boots
Pull on these sharkskin Chelsea boots from Vestigium to add an exotic flair to your casual attire. Handcrafted with genuine sharkskin and premium leather to show off striking elegance. The elastic side panels make it easy to pull on and take off. They include full leather pull straps, leather lining, a low walking heel and a steel shank to prevent objects penetrating underneath.
The special, unique texture of sharkskin will make you the talk of the neighborhood.
Click on the shoes to see them LARGER.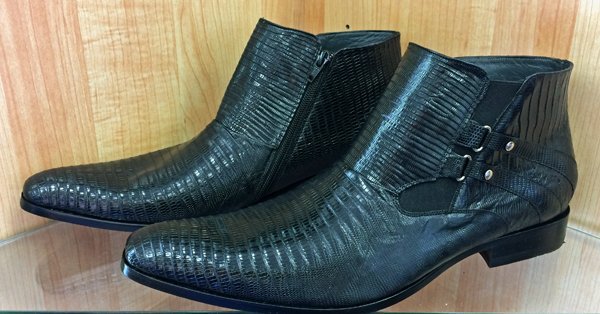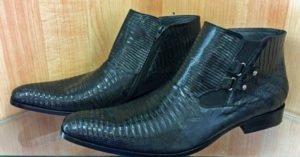 Los Altos Men's Black
Genuine Lizard-Skin (Teju)
Ankle Boots
You may know it as a "Chelsea" style boot, or ankle boot. You'll see the retro style through modern design from our Mexican craftsmen. The glossy black lizard skin is processed with special dyes to ensure the color goes all they way through the skin, so the color will never fade. With a zipper on the inside and elastic, you'll have no trouble putting them on or taking them off.
The cushioned insole will make them very comfortable, absorbing the shock.
FEATURED SHOE STYLES
Click on the shoe style that appeals to you to see it LARGER.
FEATURED PRODUCTS
Click on the shoe display that appeals to you to see it LARGER.