It's Formal Season!
Are You Ready?
Men In Style Orlando
Can Take Care of All Your Prom, Graduation
and Social Event Fashions.
It's that special final fling in High School where you can look your best and party down! Or that special social occasion where you want to look great. Or the Graduation Party you (and your parents) have been waiting for.
Men In Style Orlando has all the formal fashions you might want, to look your best.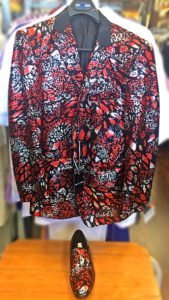 Check out our full suits for Prom or Graduation. Or maybe a fancy dress jacket. How about a stylish vest with matching tie — bow tie or neck tie. See below to preview some of your options. (Click the image to see it LARGER.)
You'll be surprised how reasonably priced our suits and formal jackets are. And some have MATCHING SHOES as part of the outfit. No doubt, you'll be the best looking guy at your Prom or Graduation this year.
And if you're looking to RENT your formal, we can help you there as well.
Come in today to make your choice, and let us fit you. And we can take care of your alterations for you, too.
Click Image to see LARGER.
Formal Vests with Neck & Bow Ties
Click Image to see LARGER.
Click Image to see LARGER.
OPENING TIMES
MONDAY – SATURDAY
10:00 am ~ 8:00 pm
CLOSED SUNDAY